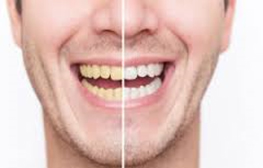 You will spend countless hours during your lifetime at the dentist with a hygienist trying to remove food stains and build up from your teeth. Did you know that there are several common foods that stain your teeth much more than others? However, I do want to add that most of these items of choice are good for your health, so moderation is definitely key here. If you have questions, we can answer them at our Kennewick dental office.
Wine
When you think of stain and wine, you probably are thinking the red wine you have in your wine cooler. Well, you are correct. Red wine can discolor your teeth. Wine is actually very acidic and even softens your enamel. However, it is recommended that if you do drink wine that you shouldn't brush your teeth right after because you may cause more damage to your already softened enamel. To not further damage your enamel you should rinse your mouth with water after finishing your wine and wait about 30 minutes or so to brush your teeth.
Coffee
Almost everyone loves coffee. You probably know that coffee stains your teeth. It has actually been proven by science. Research says that your morning cup of caffeine also comes with some health benefits. Coffee is actually the main source of antioxidants throughout America. If you want to enjoy your morning cup of coffee, just keep in mind that you should brush your teeth with a soft-bristle tooth brush when you finish.
Sports Drinks
You've probably had sports drinks at some point in your life. You know those drinks that come in a variety of colors. Well, steer clear of the darker colors because they will stain your teeth and they are full of acid and sugar. Just like wine, they will soften the enamel. When drinking these drinks you shouldn't brush your teeth right after. Drink a glass of water and wait 30 minutes then brush your teeth.
Curry
I'll let you in on a little secret; turmeric gives the curry that beautiful yellow color, which also gives you that color for your teeth. Yup, turmeric is partially to blame for your yellow teeth, if you love curry. If you add in some nice leafy greens, that will help protect your smile. However, you should brush your tongue and teeth right after eating curry. This doesn't mean you should avoid turmeric at all cost because researchers believe it helps protect you against a few cancers.
Blueberries
Blueberries are a great source of antioxidants so they are good for your diet. However, the color of the fruit, along with raspberries and blackberries, are among the fruits that stain your teeth. Not to mention, they can stain your clothes too. However, it is wise that you brush your teeth after eating, so you are not walking around with some dark colored teeth.
This does not mean you should not eat or drink any of these items because quite frankly, these items are a good source to your diet. However, it is wise to follow the steps for brushing your teeth when consuming them to make sure your teeth stay sparkling white. If your teeth are already stained, come see us at our Tri Cities dental office to get your teeth back to being white.