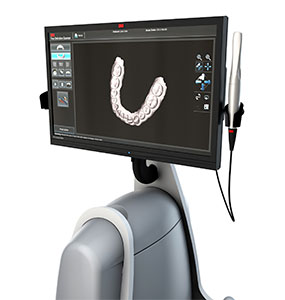 Dr. Barney is proudly using the True Definition Scanner by 3M to help all of his patients and make their visit comfortable and painless. This in-office device is perfect for patients who need cosmetic and orthodontic work performed. This technology allows our office to make the perfect shaped and fitted crowns and Invisalign trays.
How it Works
This scanner is designed to be used for 3D impressions of your teeth. These impressions are used to create Invisalign trays and crowns. The impression is sent over to the lab via a cloud server. The lab is then able to pull up the 3D image and print off the impression. This allows them to create a better crown based on the impression.
Patients will notice crowns and Invisalign trays fit better and feel more natural using this process. The process provides more durable products and patients will not be frustrated due to incorrect fittings or crowns breaking.
Benefits of the True Definition Scanner
There are many benefits to using the True Definition Scanner in our office and Dr. Barney recognizes those benefits.
The scanner is very accurate and provides more accurate results than other scanners. All of the impressions made using the True Definition Scanner will fit correctly and feel completely natural.
The lab is able to make a more accurate impression of your teeth because of the 3D technology. This also minimizes the wait time to receive a completed crown or tray.
If you are ready to experience the new True Definition Scanner by 3M, call our office today to schedule a consultation with your Kennewick dentist.
Save
Save
Save
Save
Save
Save
Save
Save