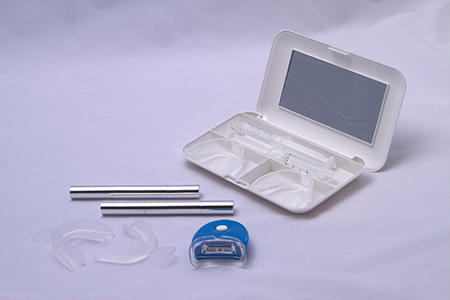 Over-the-counter (OTC) teeth whitening products may be effective, but not for long. While you might be tempted to use these products as they are easily available and are also usually affordable, the truth is that they can do more damage than good.
Firstly, it's important to understand what an OTC product is.
Basically, a product that can be purchased without a prescription is an OTC product. They are usually promoted by sellers as cheaper alternatives and hence have huge demand among customers. However, they aren't very effective in doing what they promise to do.
But, don't get fooled. Not all products you buy from a medical store are poor. Your best alternative is a dentist who will either perform the teeth whitening procedure at the office or suggest products to purchase from a medical store for use at home.
The products suggested by your dentist are highly reliable as they are tried and tested. When you purchase a product suggested by your dentist, you are trusting his or her expertise to give you a product that will help you achieve your ideal smile.
Without further ado, let's talk about five reasons why over-the-counter teeth whiteners are a bad idea:
They Can Cause Pain
Individuals who suffer from a high level of tooth or tissue problems find these whitening products overly painful because of the ingredients found in them. They may result in inflammation of the gums, pain in the gums, and other such problems.
Uneven Whitening
One of the biggest problems with these products is uneven results. You will see patches of white in some places, and no result in an area right next to it. As a result, you will have multi-colored teeth, which is probably worse than having yellowish teeth!
In addition to this, it's also often difficult to whiten just one tooth. Many people have only a few teeth that are discolored while the rest are shiny. It can be difficult to apply the whitening gel only to the required tooth, resulting in poor outcomes.
Temporary Results
According to reports, teeth whitening lasts one year and perhaps even more with proper care. However, when you use OTC products, you are basically paying for temporary results as the whitening could wash away within a few months.
When you think of it, you can actually pay more money for OTC solutions than you would if you get a single, trusted treatment from your dentist.
Internal Damage
Some OTC teeth whitening products are rich in acids and compounds which attack the enamel and weaken the teeth. Some users have also complained of pain due to the presence of certain chemicals.
Unless you are willing to take this risk, there is no reason why you should use OTC teeth whitening products when better alternatives are offered by your dentist.
Gum Irritation
OTC teeth whitening systems can have an adverse effect the gums too. These products are sticky, and the ingredients inside them immediately attack the sensitive parts of the mouth such as the gums. Some of these products come in trays, but they are usually very poor quality, allowing the chemicals to seep out and cause damage to the health of your gums.
Instead, we feel that your best bet to have a bright, white smile is to turn to a professional dentist. We at Kennewick Dental offer affordable teeth whitening packages. Call us at (509) 374-4077 today to book an appointment.