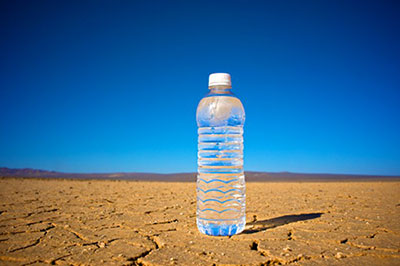 Each year more of us are drinking bottled water.
It's convenient. It tastes good. It might be safer than the tap water coming from our municipal system or backyard well, depending on where we live.
But is so much bottled water, most of it lacking fluoride, good for our teeth?
First, consider the magnitude of how much more bottled water we're drinking. Last year, the average American drank 34 gallons of bottled water, an all-time high, according to the International Bottled Water Association, a trade group. It's a number that has grown steadily in each of the past five years.
In 1976, the average American drank just 1.6 gallons of bottled water. We now drink more bottled water than milk or beer.
The dental community is increasingly voicing concerns about the trend. Why? Because unlike many municipal water supplies, most bottled water doesn't contain fluoride, a naturally occurring mineral that not only prevents tooth decay by strengthening enamel but cures beginning cavities. This is true for both children and adults.
Spreading the fluoridation message
The American Dental Association worked hard for decades to get communities to start adding fluoride to their public water systems. By 2012, the ADA could look back and declare victory. That year, more than 74 percent of the U.S. population served by municipal water had access to fluoridated water at recommended levels, amounting to about 210 million people, up 10 percent from 2000, according to the ADA.
But the dental field in recent years has reported an alarming increase in early childhood cavity incidence, a trend that drew widespread news media coverage.
The bottled water industry has fought back against these concerns, noting that bottled water does not contain the sugar that causes cavities, and asserting that there is no correlation between the increase in people drinking bottled water and more people suffering from tooth decay.
The IBWA also has pointed out that more than 20 brands of bottled water have added fluoride, giving choices to bottled water drinkers who want fluoride.
Seek out other fluoride sources
To be sure, no one is advising you to stop drinking bottled water. But if you and your children aren't getting fluoride in your drinking water, be sure to find it elsewhere.
The U.S. Centers for Disease Control recommends that children use toothpaste that contains fluoride, except for those younger than 2, unless a doctor or dentist advises it.
Talk to your Kennewick dentist about putting fluoride varnish on your child's teeth, as soon as the first tooth appears. Also ask about fluoride sealants, which last longer than varnish.
According to the ADA, tooth decay is by far the most common and costly oral health problem in all age groups. It is five times more common than asthma and seven times more common than hay fever in 5-to-17-year-olds. The pain from untreated cavities can cause individuals to lose sleep and have trouble eating, speaking and paying attention at school or work, the ADA has said.
What do you think? If you or your family drinks primarily bottled water, are you interested in seeing whether you are getting enough fluoride?