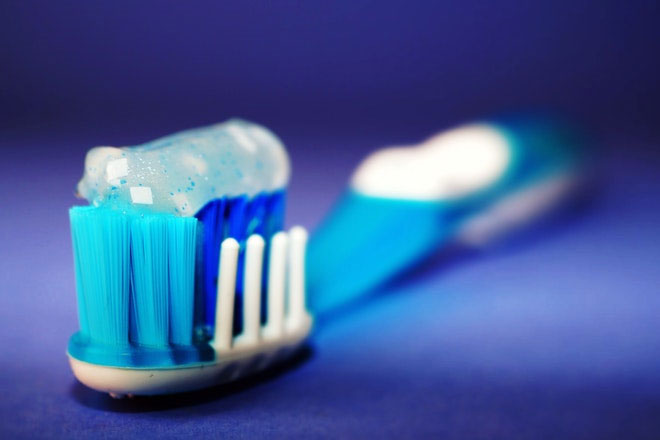 You want your teeth to be clean, healthy, and strong. Going to your dentist for regular check-ups is an important part of your overall oral health.
But, what you do at home to care for your mouth can help keep your teeth and gums in their optimum health, too. You know – brushing, flossing, and rinsing are all good steps in preventative care.
But what you might be unsure of is the best ways to use these steps. What do you need to know about taking care of your teeth at home? Here is the ideal at-home routine you can do to care for your teeth and gums.
Why is Brushing Your Teeth So Important?
It goes without saying that brushing your teeth each day is one of the best preventative measures you can take for your oral health. That's because brushing removes plaque from the tooth enamel that could cause tooth decay or gum disease.
For a healthy mouth, brush your teeth twice a day with a soft bristle toothbrush. You want to brush for about 2 to 3 minutes using a pea-sized amount of fluoride toothpaste on your brush. Then rinse your mouth with clean water.
It's best to brush your teeth right before you go to sleep, and after meals. At the least, make sure to brush your teeth one time during the day, and at night.
For the best results, brush all exposed sides of your teeth, including the back of your teeth. Don't forget to brush your tongue. To keep germs at bay, replace your toothbrush every two to three months.
How Does Flossing Improve Oral Health?
The next step after thoroughly brushing your teeth and rinsing with clean water is flossing.
Using interdental brushes or dental floss, work your way between every tooth. Make sure you also get behind the back teeth. This should be done at least once a day.
Flossing will remove any plaque build-up between your teeth that your toothbrush can't reach. Your gums may bleed slightly if you just started flossing or if you have a large amount of plaque between your teeth. If the bleeding is excessive, contact your dentist immediately.
What Types of Mouthwash are Available?
After flossing is a great time for you to rinse with an antiseptic mouthwash.
Rinsing with a mouthwash should be done at least once a day. According to the American Dental Association, the two main types of mouthwashes, also called mouthrinses, are cosmetic and therapeutic.
Therapeutic mouthwashes are used to help prevent bad breath, plaque, gingivitis, and tooth decay. They can also be used for topical pain relief.
On the other hand, cosmetic mouthwashes generally have tooth whitening properties. Look for mouthwashes that have the ADA seal of approval.
To protect the enamel on your teeth, it's best to wait approximately 30 minutes after eating to brush, floss or rinse with a mouthwash.
After you eat, the enamel on your teeth can get soft. Waiting for 30 minutes after eating gives the enamel time to harden. Brushing too soon after eating, especially if you've consumed foods that are acidic such as citrus fruits, can cause damage to your tooth enamel.
The Food You Eat Impacts Your Oral Health
You now have your routine down with brushing, flossing, and rinsing with a mouthwash. What's next?
The next step you can take is looking at the foods you eat.
It's best to avoid sugary and starchy foods. This includes candy, cookies, cakes, breads, crackers, and even snack foods such as potato chips.
Also avoid eating dried fruits and raisins. They can be high in sugar and stick to your teeth. Eating a variety of foods is best, with lots of fruits, vegetables, and dairy products. Good eating habits for your whole body are good eating habits for your oral health too.
You Need Regular Dental Visits, Too
Along with you're at-home routine, visit your dentist every six months for a check-up and cleaning.
Regular check-ups will help to ensure any problems you may have will be caught early enough for your dentist to treat before any permanent damage occurs. A professional dental cleaning will help to keep your teeth healthy, too.
Additionally, at these routine visits, your dentist can give you information about the best toothbrushes, floss, and mouthwashes for your individual needs and help you to plan your at-home oral health care routine.
Consult Your Dentist for the Best At-Home Dental Products
A professional dentist office, such as Kennewick Dental, is the best place to get the information you need for your oral hygiene care. Our trained staff can help you set up an at-home care routine for you and your family that works best for all your individual needs.
If you are in the Kennewick, Washington area, contact Kennewick Dental. We specialize in family and implant dentistry, and offer a wide range of routine services as well. Let our professionally trained staff at Kennewick dental help you to create the ideal at-home routine for caring for your teeth.
Save
Save
Save