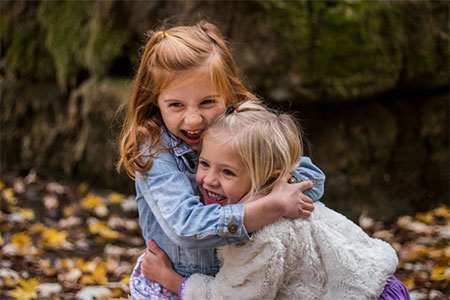 Their smiles and laughter are contagious. Your children are your pride and joy. You want to do everything you can to ensure their good health, both physically and mentally. This includes their oral health.
It's your job as parents to encourage your kids to have good oral health. How do you go about this?
There are several easy steps to take to help your child learn to take care of their teeth and gums. With encouragement and by setting a good example, they can learn how to have a lifetime of good oral hygiene.
First Teeth
According to the National Institute of Health- Medline Plus, "despite the fact that it is almost entirely preventable, tooth decay is the most common chronic disease in children." Statistics show more than 40% of children 2 to 11 years old have had a cavity in their primary teeth, also known as their baby teeth.
Your child's good oral health begins with you. This can be as early as when they are infants. You can start with the care of their gums, even before their first teeth start to appear.
The first step is cleaning your baby's gums with a soft cloth. This can be started a few days after they are born. Consult with your pediatrician to ensure you are doing it correctly and that the baby's gums are healthy.
Children generally start getting their first teeth around 6 to 8 months old. You can continue to wipe their first teeth with a soft cloth. When your child has at least four teeth in a row or is about two years old, you can begin to use a child-sized toothbrush with a small amount of fluoride toothpaste. The amount of toothpaste can be about the size of a grain of rice to start with.
Letting your child help hold the toothbrush as you brush their teeth is a great way to get them actively involved. Teaching your kids the "2 minute 2 times" rule, brushing their teeth for 2 minutes twice a day, can help them to remember the best way to brush their teeth.
Dentist Visits
With their first teeth, it's time to schedule their first dentist appointment.
The American Academy of Pediatric Dentistry (AAPD) recommends a child's first visit to the dentist should be within six months of getting their first tooth. The first visit to the dentist is an important one for your child.
Dentist offices can be scary places for children. Making the first appointment stress-free and comfortable will set the stage for future visits. Regular dental visits are an important part of your child's overall oral health.
The dentist's office can help with cavity prevention before it becomes an issue. At first, they will assess the health of your child's teeth, gums, and overall oral health. They can then offer suggestions and guidance for both you and your child on how to take care of all their dental needs, including preventing cavities.
Many dentist offices offer activity sheets and coloring pages to help teach your kids about their teeth and gums and to encourage them in learning about healthy oral habits.
Eating and Drinking
What your child eats and drinks are a big part in keeping their teeth and gums strong and healthy. Cavities are caused by germs and bacteria in the mouth. The germs and bacteria feed on sugary foods and drinks creating acid. The acid that forms eats away at the enamel on teeth creating holes which are cavities.
You can help your child to develop good oral hygiene by avoiding or limiting sugary foods and drinks. Encourage your child to drink water, especially tap water with fluoride, instead of soda or sweetened juices.
For snack time, help your kids develop the habit of reaching for fresh fruits and vegetables, and avoid sweets, cookies, and candy. Fruits and vegetables are not only lower in sugar but are full of vitamins and minerals to help strengthen teeth and gums.
Lifetime of Oral Health
Encouraging your kids to brush their teeth twice a day and to eat healthy foods and drinks are habits that will not only help them in their childhood but throughout their life.
Finding a dentist office that can follow them from infancy to adulthood can also be a way to help them create healthy habits. If you live in the Kennewick, Washington area, Kennewick Dental can help. We offer dental services for the whole family, from kids to adults. Contact us for more information or an initial consultation. We are excited to be able to work with you in encouraging your kids to have a lifetime of good oral health.