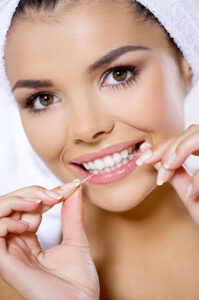 There's an episode of Seinfeld with a plot that involves Jerry dating a doctor and getting a little annoyed with how she goes on and on about how satisfying it is to save a person's life. Jerry becomes downright angry when he learns this "doctor" he's been dating is a dermatologist, something he equates with someone who exists only to clear the skin of vain patients. Inspired by George, Jerry makes a grand gesture of telling her off, taking her out to a nice restaurant just to insult her.
Of course, this is Seinfeld, so everything doesn't exactly as Jerry planned. Right after he insults her, going as far as calling her "Pimple Popper M.D.", a former patient walks up and thanks her for saving his life. "She saved your life?" Jerry asks, perplexed, and he is then reminded that dermatologists also treat skin cancer.
It's easy to make the same mistake Jerry made about dermatologists when thinking about dentists. All their scraping and baking soda spraying is only done to keep your pearly whites white, and they recommend that you brush your teeth and floss just so that your smile is more attractive and your breath isn't bad, right?
Wrong. It turns out that oral health is not just for looks. Not brushing your teeth and forgoing flossing can lead to some serious, even fatal, health complications.
Kidney Disease
The kidneys don't get as much press as your heart or your brain, but just like those two organs, you can't live without them. Poor oral hygiene makes you more prone to gum infections, which don't stop at the lungs: they also result in inflammation of your major organs, including the kidneys. This inflammation can cause some serious damage.
If you think brushing your teeth for 2 minutes twice a day is annoying, try going through dialysis for 4 hours three times a week.
Heart Attacks
The kidneys are not the only organ affected by poor dental hygiene. There have been numerous studies that show gum disease puts you at greater risk of a heart attack. The resulting inflammation from gum disease we discussed earlier can itself result in a hardening of the arteries, known as atherosclerosis.
The Solution
Listen to your dentist, people. Obvious it's easier to not brush your teeth and floss than it is to do it, but it's really not the hard of a task, and it doesn't take up that much time. Brush twice a day for two minutes each session, moving the brush in tight circles and going over the entire surface of each tooth (not just the front). And flossing is just as important. It's not just for a better smile: It's for your health.