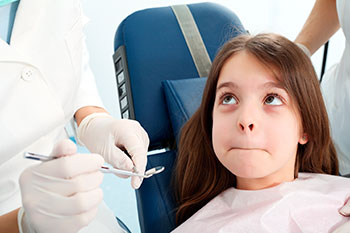 There are actually a whole lot of grown adults out there who are absolutely terrified of going to the dentist. If you happen to be one of those people who are scared of the dentist yourself, it can be quite a challenge if you have a child who is also afraid of the dentist and you would like to ease his or her fears. Well, whether you are afraid of the dentist or not, here are a few ways you can help ease your child's fear of the dentist and make those trips to the dental office a more positive experience in their eyes.
Tips on How to Ease Your Child's Fear of the Dentist
Start out young– One of the best ways that you can help your child get used to going to the dentist is to start taking them to a dental professional as early in their life as possible. Some experts recommend taking your child to a dental office as early as age 1. By providing your child with a "dental home" at a very young age, they will become more accustomed to and comfortable with the routine visits.
Keep things simple and watch your words– Whenever you are explaining to your child about the trip to the dental office, you will want to keep the description as simple as possible. You don't want to give a young child too many overwhelming details. Keeping things simple and easy will help your child feel less confused and/or anxious.
You will also want to watch which words you use so as not to associate negative words with the dental visit. Words like "hurt," "pain" or "shot" should never be used when describing and/or explaining a trip to the dentist office.
Play a "pretend" dental office visit– Making a game out of things can be a good way to ease a child's anxiety and/or fear of the dentist, and this can also be applied to a trip to the dental office. Playing a game of "let's pretend" and acting out a "mock" trip to the dentist can help your child learn what to expect.
Emphasize the importance of good oral hygiene­– When you express to your child how important good oral hygiene is and make practicing good dental habits an important part of their daily life, they will be more perceptive when you tell them how important a dental office visit is to their dental health.
Avoid the use of bribery– Although bribing your child might seem like an "easy" way to calm them, it's not a healthy way to get them to go to the dentist. They will start expecting a reward every time they go to the dentist which takes the focus off of the fact that good dental health is its own reward in itself.
Tips on How Your Dental Professional Can Help Calm Your Child's Fears
Your dental professional can also help ease and calm your child's fear of the dentist. Pediatric dentists are usually good with children and will most likely know how to soothe and calm an anxious and/or scared child and put them more at ease. Some of the most common tactics used by dental professionals to ease an anxious and/or scared young child are:
Distractions
Positive reinforcement
Simple and easy instructions
Sedation (for the most extreme cases)
Now that you have learned some really good ways to ease your child's fear of the dentist, you can put these into action and have your child on their way to a healthier mouth in no time. Call us on (509) 591-9336 to schedule an appointment.
Save
Save
Save